I made French Fried Onion Chicken a couple weeks back. It turned out WONDERFUL!
Super Sweet & Tangy, Crunchy and Moist!
Do you want the recipe?
Ingredients
1-2lbs Chicken Breast or Chicken Tenders
1 cup Mayonnaise
1/2 cup of Mustard
1 Knorr Onion Dip Packet or a can of French's Fried Onions
1 cup breadcrumbs (I toasted 4 pieces of bread and crunched them up in a baggie)
Directions
1. Mix mayonnaise and mustard together
2. Mix Onion Dip Packet and breadcrumbs together in a separate bowl
3. Wash your chicken and pat dry.
4. Dip chicken breasts or tenders into mayonnaises and mustard mixture.
5. Roll chicken breasts or tenders in the onion/breadcrumb mixture until all sides are covered.
6. Lay flat in a 13 x 9 casserole dish (spray with non stick cooking spray)
7. Bake in oven on 425 for 20 mins or until chicken is thoroughly cooked. When you take them out of the oven they should be golden brown and crispy.
I paired them with some mashed potatoes and fresh corn on the cob.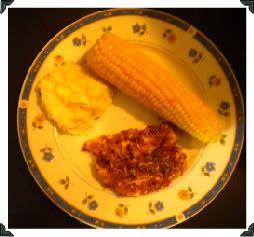 The chicken was so moist it just melted in our mouths and the crispy onions gave it just the right POP!