I ditched the original meal I had on my
Menu Plan Monday
for tonight...
I just wasn't feeling Cheesy Potatoe Casserole so I made Pasta Fagioli instead!
What's that you ask?
It is so quick and easy....
Ingredients
(2) Cans of Chunky Vegetable Pasta Sauce ($2.50 on sale at Alberstons $1.25/ea)
(2) Cans of White Kidney Beans (drained) ($1.39 x 2)
(1) Can of chopped spinach (drained) OR you can use frozen (thawed of course) OR fresh spinach (chopped). ($1.69 for canned)
16 oz of pasta (Elbow Macaroni, Rotini, Penne, whatever you have on hand) ($1.00 on sale)
Directions
1. Cook pasta as directed. Drain, keep 2 cups of pasta water.
2. Combine pasta sauce, beans, spinach, pasta and pasta water.
3. Cook on med heat for 10-15 mins.
4. Add salt & pepper to taste
Pair with some hot buttery french bread ($1.99). MMM, good.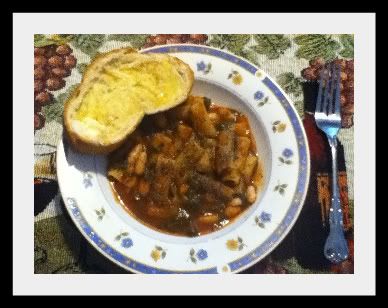 And you want to know something....This is another FRUGAL dinner.

Total cost of ingredients: $9.96 ($1.99 per person).

Fed all 5 of us and we have leftovers for lunch tomorrow.
Miss K loved it. Can you tell?